Bloggeren Trendstefan har været på sommerens Heimtextil i Frankfurt. Her kan du læse hans reportage fra turen, hvad der rører sig samt en status på messen anno 2022.
Af Stefan Nilsson, TrendStefan
Heimtextil is normally the fair that kicks off the year. Early in January. And always a great opportunity to see textiles and wallpaper. To me, this is one of the best fairs to get an overview on colours and patterns. These are the things that will end up on sofas, beds, bathrooms and on wall. Also Heimtextil brings the best trend exhibition in the whole industry. Now not in January but end of June.
How was Heimtextil? Smaller. Absolutely. This year the textile fair merged with more tech inspirered fairs like Techtextil and Techprocess. You know how all the ropes at sea have textiles on them? This kind of textile. 3D printed textiles, insides of cars, firemens' textile etc, etc. Very engineer driven textile.
But for Heimtextil. Despite feeling smaller, everyone was happy. Fewer exhibitors ment more attention for those actually on site.
With the three fairs together the numbers were optimistic. Officially 2.300 exhibitors and 63.000 visitors.
So what did we see? Here are the textile trends at Heimtextil. Expect this to be seen on commercial products already next year.
Flowers
I am starting with some easy observations and will end off with colours.
When listening to other trend agencies, I hear that we can expect more flowers in the future. And not petite fleurs with lots of flowers on top of eachother. More individual flowers. Kind of reporting. Here is a daisy. Here is a dandelion.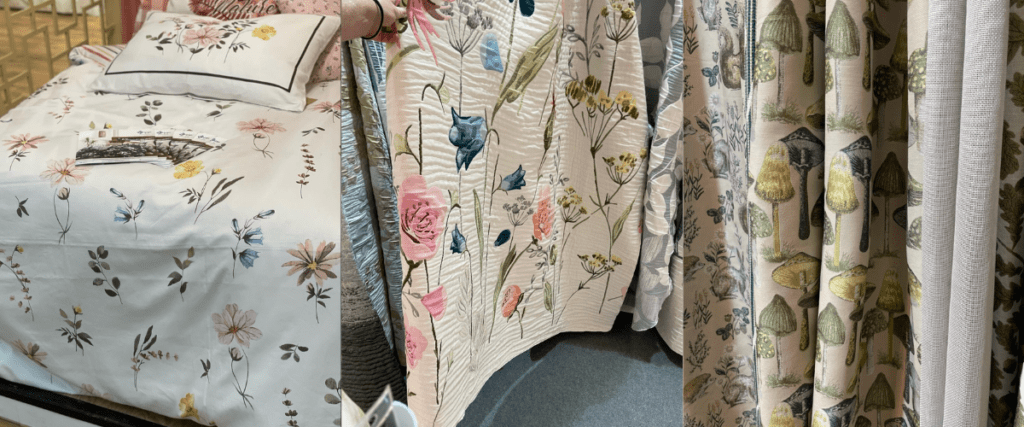 And I add a picture of mushrooms. I think mushrooms will be huge in coming years.
Tropical patterns
Yes, I know we are all tired of tropical birds and monstera leaves. So tired of this… But I would like to stress that there are a lot of examples with tropical patterns still. Perhaps as a sign that we need to dream a little? Regardless, yes, we will still see tropical things on textiles and wallpaper.

The curve
A while ago we talked about how the architectonical arc was everywhere. Bookstands, lamps, candle holders, sidetables, etc, etc. Now of course also in textiles – but not always standing up. I call it 'the curve'.
Fringes
One thing was clear. If you should do something with textiles – add fringes.
It could be a lot… Or little… Or even odd shapes

Colours
Where to start? Two colours that stand out are green and blue/purple. When I look at names for this green is is somewhere between neon and harleguin. And googling names for this purple I find Cadbury purple to be pretty close.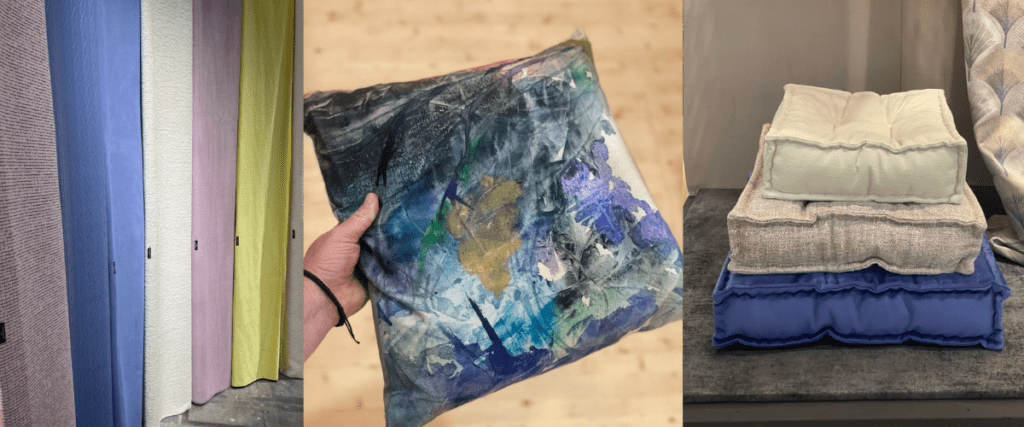 Cadbury purple with other soft pastels (left). Cadbury purple mixed in patterns (centre) and Cadbury purple mixed with beige (right).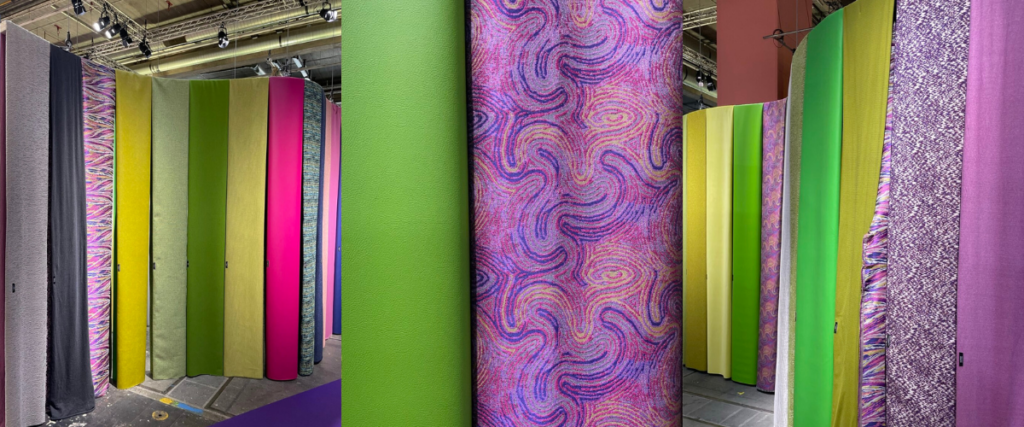 We can continue to look at this neon or harlequin green. Almost always with a mustard yellow and pink.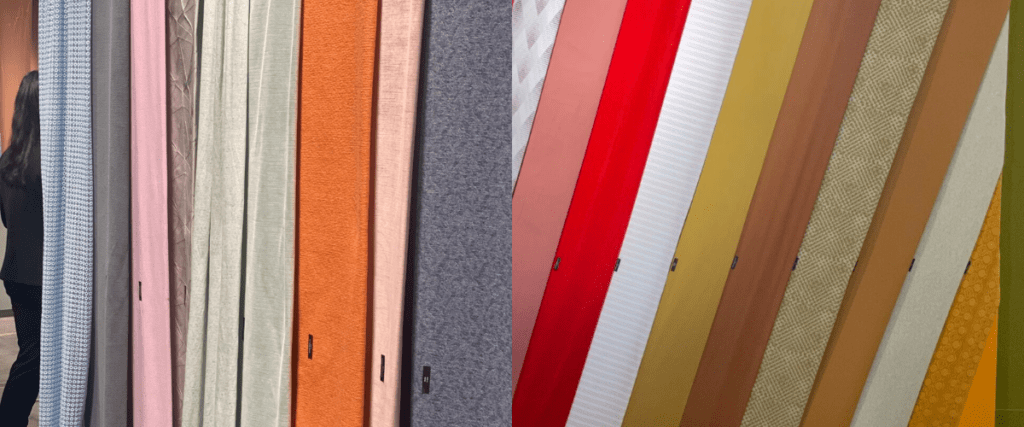 I must also say, I saw a bit of a milky pink. Milky, dusty or dirty? (left) As well as various combinations of terracotta or muddy colours. (right)
Foto: TrendStefan